Table of Contents
During the weekend of the 8th and 9th of November Maik Wagner and Sebastian Weitmann from the International SQL-Ledger Network Association presented SQL-Ledger and LedgerCart at the OpenRheinRhuhr free software trade show in Oberhausen, Germany.
FEEDBACK FROM THE OpenRheinRuhr 2014 FREE SOFTWARE TRADE SHOW

Largest metropolitan region in Germany
OpenRheinRuhr is a free software trade show with lectures and exhibition in the Rhine-Ruhr metropolitan region, which is the largest metropolitan region in Germany with over 11 million inhabitants. This years fair was held between the 8th and 9th of November at the Industry museum in Oberhausen.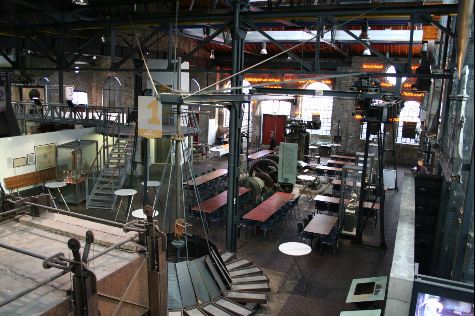 There were several solid free software projects exhibited at the trade show, among others Bananian Linux, Debian, Fedora, Geany, Joomla, LibreOffice, OpenOffice, OpenStreetMap, OpenSUSE, Skolelinux and Ubuntu. The Free Software Foundation Europe also had a major stand at the fair. Everything at the trade show was very well prepared and the organisers were very friendly and helpful.
Unfortunately during the days of the fair a four-day rail strike, billed as the longest in German history, hit passenger trains and thereby disrupted some of the flow of visitors to the fair.
Presentations and lectures
During the two days of the fair there were still quite a few visitors and many of them also chose to attend some of the different presentations and lectures that were offered by the various exhibitors parallel to the trade show in four main lecture halls. The International SQL-Ledger Network Association, which was represented by Maik Wagner and myself, had a booth at the fair and during the Saturday we also held a presentation regarding SQL-Ledger & LedgerCart and our International Network Association in one the halls.
The majority of visitors who came to the exhibition were people with some kind of technical background and most of them already had a clear understanding of the difference between free and proprietary software. There were only a few visitors who were actually looking for an ERP solution for their business, but many were still interested to see what SQL-Ledger and LedgerCart had to offer.
At our booth we had a 21" wide-screen monitor showing
and whenever someone had a specific question regarding the functionality of SQL-Ledger or LedgerCart, we would stop the film and show the answer to their question on that very same screen, so that everyone could join in and take part of any discussion that was held.
SQL-Ledger Alive & Kicking
There were quite a few people who told us that they had heard of SQL-Ledger before and many had even previously checked it out. But then most of them said that they thought that the project had died about eight years ago and they hadn't really heard anything more about it since then.

Both Maik and I got the impression that the people who visited our booth and those who came to listen to our lecture were happy to see that SQL-Ledger is alive and kicking. Several people explicitly mentioned that they thought that the idea to continue the future development of SQL-Ledger and LedgerCart openly on GitHub and under the roof a an International Association was a very good idea.
Questions & Answers
Now, in regard to the two questions Bernd Plagge suggested we ask our visitors, namely
  1.) What is not so good?
  2.) What is your wish list of improvements?
most people were not familiar enough with SQL-Ledger to have an opinion about what is not so good about it. Instead we had the feeling that in the majority of cases they found the software, its architecture and the various functionalities rather impressing.
Some commented on the difficult installation, but my new simple SQL-Ledger & LedgerCart installation script for Linux Debian was a good cure to that argument. Others missed a good and free user manual, but Armaghan and I are currently working on that too, so this weakness will hopefully also be solved in the near future.
Regarding the wish list of improvements for SQL-Ledger we found that some visitors were missing the possibility of incorporating a Document Management System to enable the linking of transactions in SQL-Ledger to the related scanned documents in a free Document Management System like Alfresco.
Our friendly neighbours
Our neighbouring booth to the left of us was hosted by Kivitendo, one of the early forks of SQL-Ledger, previously know as LX-Office. The hosts Geoffrey and Jan were very friendly and we agreed to keep each other updated on future development plans and other matters that might interest the other party. We also agreed that we should share knowledge and try to work together as much as possible.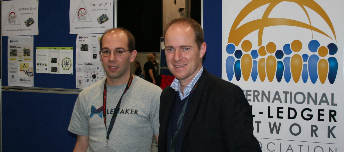 Our neighbouring booth to the right of us was hosted by Nico and Chantal from the Bananian Linux Project and the Shenzhen LeMaker Technology Company, two very interesting and complementing products. The Banana pi is a single-board computer and Banania Linux is a pre-installed Debian 7 image optimized for the Banana Pi.
SQL-Ledger & hardware < 80 EUR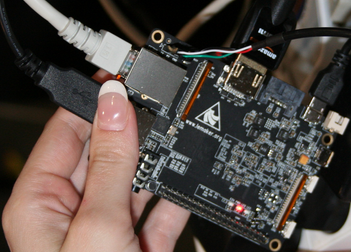 During the fair we decided to try using my Debian installation script to install SQL-Ledger & LedgerCart on a Banana Pi with the Bananian Linux operating system. The script worked well (thanks to Rodney and Gregory for calling my attention to some previous errors in the script) and we then connected to the Banana Pi and tried posting some transactions and running some reports over the local trade show open network – and wow! Amazing! SQL-Ledger and LedgerCart runs really fast and smooth on the Banana Pi. This makes it possible to deliver a complete pre-install of SQL-Ledger and LedgerCart on solid hardware for less than 80 EUR ($100) - an absolutely unbeatable price for a complete ERP-system with an integrated Webshop - including the server hardware. Try it, you'll like it!
Thank you organisers & visitors
Special thanks goes out to the organisers and everyone who helped out at the OpenRheinRhur 2014 trade show. Special thanks also goes out to all the visitors and co-exhibitors who came by our booth and gave us their attention.
orr2014.txt · Last modified: 2014/12/30 15:00 by 127.0.0.1
---