Table of Contents
SQL-Ledger 2018 Network Conference
Join our April 2018 Network Conferences on April 18th in Zürich, Switzerland and on April 25th in Cologne, Germany. Our topics will amongst others be the use of Mojolicious for further SQL-Ledger development and new RESTful API features for transferring data to and getting data from other apps.
Our main developer Armagahn Saqib (https://github.com/ledger123/) will be attending both conferences in Switzerland and Germany.
This is a great opportunity to get to know more about our work and our development plans for 2018 and 2019. There's been a lot going on behind the scenes and we look forward to engage with our members and agreeing on the direction to be taken in regard to the next SQL-Ledger developments.
If you are interested in attending, please send us an email to info@sql-ledger-network.com and we will send you a reply with all the necessary details. All our work is non-profit, so the 125 € registration fee is collected only to cover expenses.
Docker Build for SQL-Ledger
Daniel Binggeli has released a dockerfile to build a SQL-Ledger container image which can be linked to other containers. It will install Postgres and Apache2 and all the necessary packages for SQL-Ledger:
Check it out - it's really cool! https://github.com/drnoa/sqlledger_docker
Thanks for sharing, Daniel!
Ansible Installation Script for SQL-Ledger
Our Network members have worked together to developed this Ansible installation script that will install the SQL-Ledger 'Run my Accounts' community version on Linux Debian 9 (Jessie).
Check it out - it's simply genius! https://github.com/sl-community/install-sql-ledger
Thanks for sharing, Axel and Tekki!
SQL-Ledger User Guide
Get your own copy for free!
Register yourself here on the International SQL-Ledger Network Association website and we will send you a PDF copy of our SQL-Ledger User Manual (227 pages) for free.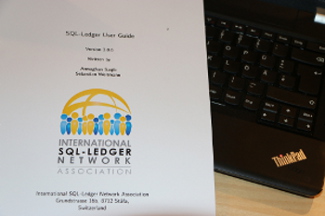 What is SQL-Ledger?
SQL-Ledger is an Open Source double entry Accounting Enterprise Resource Planning (ERP) Software System. SQL-Ledger is Free Software, it was first developed by Dieter Simader (DWS Systems Inc.) and published under the GNU General Public License in 1999.
Watch the video below to see SQL-Ledger and its intergrated Webshop solution LedgerCart in action.
SQL-Ledger Know-how
Useful SQL-Ledger Links
Members Area