Table of Contents
NEW: Ansible Installation Script for SQL-Ledger
Since SQL-Ledger is based on a stack of other very powerful free software solutions, its deployment has become a complex matter. Ansible is a great IT automation engine that makes it easy to manage such complex software deployments.
Our Network members have worked together to developed this Ansible installation script that will install the SQL-Ledger 'Run my Accounts' community version on a Linux Debian operating system:
Check it out - it's simply genius! https://github.com/sl-community/install-sql-ledger
Demo and Test System
SQL-Ledger User Guide
Get your own copy for free!
Register yourself here on the International SQL-Ledger Network Association website and we will send you a PDF copy of the new SQL-Ledger User Manual (227 pages) for free.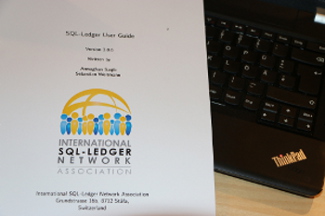 Contents:
2. Setting up your business on SQL-Ledger

Tells you how to set up and adapt SQL-Ledger to fit your own business needs;
3. Running your buisness on SQL-Ledger

Highlights how to process your day to day business transactions in SQL-Ledger;
4. Keeping track of your business in SQL-Ledger

Explains how to take advantage of all the information you have entered into SQL-Ledger;
6. Development and customization

Introduction to SQL-Ledger development and customization.
What is SQL-Ledger?
SQL-Ledger is an Open Source double entry Accounting Enterprise Resource Planning (ERP) Software System. SQL-Ledger is Free Software, it was first developed by Dieter Simader (DWS Systems Inc.) and published under the GNU General Public License in 1999.
Watch the video below to see SQL-Ledger and its intergrated Webshop solution LedgerCart in action.
SQL-Ledger Know-how
Useful SQL-Ledger Links
Members Area