Table of Contents
SQL-Ledger User Guide
Get your own copy for free!
Register yourself here on the International SQL-Ledger Network Association website and we will send you a PDF copy of the new SQL-Ledger User Manual (227 pages) for free.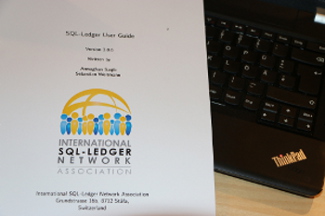 Contents:
1. Introduction - Introduces SQL-Ledger and explains how to get it up and running;

2. Setting up your business on SQL-Ledger - Tells you how to set up and adapt SQL-Ledger to fit your own business needs;

3. Running your buisness on SQL-Ledger - Highlights how to process your day to day business transactions in SQL-Ledger;

4. Keeping track of your business in SQL-Ledger Explaines how to take advantage of all the information you have entered into SQL-Ledger;

5. Ledger Cart - Provides information on Ledger Cart, an add-on tool to upgrade SQL-Ledger into a fully functional web-based ordering system and customer portal;

6. Development and customization - Introduction to SQL-Ledger development and customization.
Free SQL-Ledger hosting
Using the free hosted SQL-Ledger instance, available from the International SQL-Ledger Network Association website, is the easiest way to get up and running with SQL-Ledger. To get your own free hosted instance of SQL-Ledger simply signup here.
The Secret key you need to enter during registration is a single word 'have a good day' without spaces and quotes.
Please note that we don't keep any central backups of the databases on the free hosting server. On the free hosting server you need to backup your own database on a regular basis using the 'System–Backup' menu.
What is SQL-Ledger?
SQL-Ledger is an Open Source double entry Accounting Enterprise Resource Planning (ERP) Software System. SQL-Ledger is Free Software, it was first developed by Dieter Simader (DWS Systems Inc.) and published under the GNU General Public License in 1999.
Watch the video below to see SQL-Ledger and its intergrated Webshop solution LedgerCart in action.
SQL-Ledger Know-how
Useful SQL-Ledger Links
Members Area